In the afternoon of 30 June 2022, COSCO SHIPPING Development held the 2021 annual general meeting through online video conference. Mr. Liu Chong, the chairman of the Board of Directors of the Company, attended and presided over the meeting. The non-executive director Mr. Huang Jian, the independent directors Mr. Lu Jianzhong and Mr. Shao Ruiqing, the general manager of the Company (candidate for director) Mr. Zhang Mingwen, the supervisors Ms. Zhu Mei and Mr. Zhao Xiaobo, the deputy secretary to the Party Committee Ms. Liu Nan, the chief accountant Mr. Lin Feng, the deputy general manager Ms. Du Haiyin and the secretary to the Board of Directors Mr. Cai Lei, attended the meeting.
  The meeting considered and voted on 12 resolutions, including the 2021 Report of the Board of Directors of COSCO SHIPPING Development, the 2021 Annual Report of COSCO SHIPPING Development, the 2021 Profit Distribution of COSCO SHIPPING Development and the Election of Mr. Zhang Mingwen as an Executive Director of the Sixth Session of the Board of Directors of the Company. The management of the Company answered the questions raised by the investors regarding the acquisition of assets by issuance of shares last year and the incidental fund-raising projects, the impact of the Federal Reserve's interest rate hike on the Company and the Company's future capital expenditure. All resolutions proposed at the meeting were approved by the shareholders.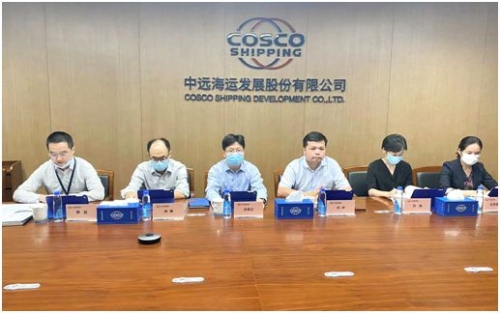 According to the resolution of the general meeting, the Company will distribute a final dividend of RMB2.26 per 10 shares for 2021. The Company has always adhered to the philosophy of sustainable development, and has distributed cash dividends for four consecutive years. The amount of dividends has been increasing year by year, to reward investors with a positive and stable dividend plan, and to share the results of the Company's sustainable development with investors.
  Since the beginning of this year, in view of the market uncertainties, the Company has made proactive deployment efforts and continuously improved its ability to respond to the market and stabilize the cycle. At the same time, the Company has vigorously implemented the dual-carbon strategy, steadily promoted the kickoff of the electric vessel project, explored and improve the ability to research, develop and manufacture marine power battery containers, so as to advance the green and zero-carbon transformation of its shipping business.
  The management of the Company would like to express its sincere gratitude to all shareholders for their care and support to the Board of Directors and the management of the Company. The Company will make progress while maintaining stability, create opportunities, sail against the wind along the high-quality development direction, and continuously improve its sustainable development ability and shareholder return ability.