Recently, COSCO SHIPPING Development received a certificate of award from the organizer of the BRICS Solutions for Sustainable Development Goals Awards 2022. The "first public sanitation pilot project of the United Nations Global Compact Belt and Road Initiative Action Platforms" participated by the Company won the Masterpiece Award of the livelihood improvement category of the competition.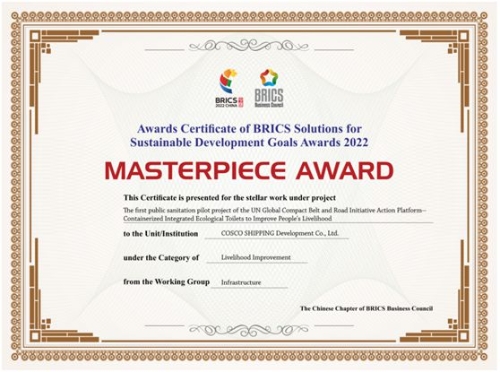 The project was officially established in early 2021, adopting ecological water-saving technology, using solar photovoltaic power generation as the power energy of the container, and integrating intelligent electrical equipment such as intelligent toilet paper boxes and sensor lamps.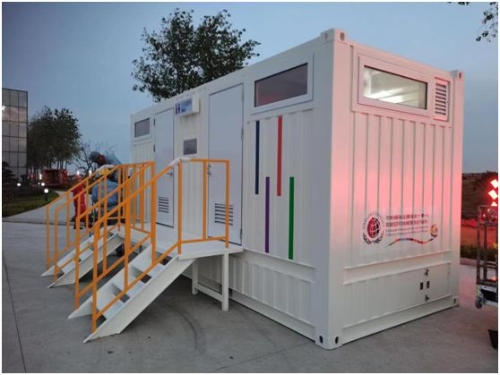 Project containers have the characteristics of short construction cycle, green environmental protection and customizable services. The containers are designed in accordance with the ISO standards for container size, and have excellent performance in waterproof, anti-corrosion, pest control, and thermal insulation, which can cope with various geographical forms and climate conditions in most regions in China and countries along the Belt and Road.
  After the pilot project rolled off the production line in October 2021, it was transported to Funing County, Yunnan Province, which has been successfully lifted out of poverty, for installation and use by local villagers to help them achieve the next stage of development goal of building a beautiful countryside.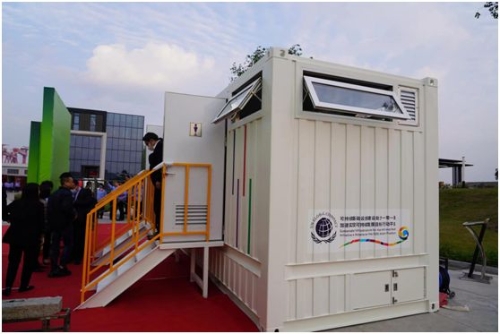 Excellent performance and adaption to a variety of geographic forms and climate conditions
  COSCO SHIPPING Development will continue to focus on the strategic layout of green development, further improve the development system of green container manufacturing, continue to innovate products and production models, and build more "green, innovative and integrated" special container integration projects to promote the construction of container manufacturing system for green and low-carbon recycling development, thereby helping rural revitalization and enhancing the common well-being of mankind.