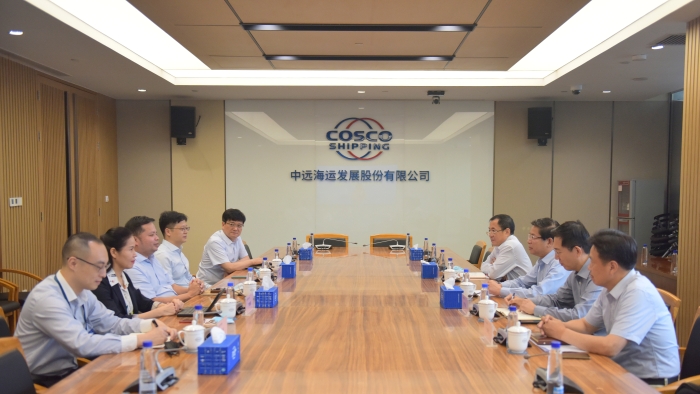 On 17 August, the delegation headed by Qian Weizhong, the Managing Director of COSCO SHIPPING (Hong Kong) Co., Limited (中遠海運(香港)有限公司), visited COSCO SHIPPING Development Co., Ltd. (中遠海運發展股份有限公司) in the afternoon and held a meeting with leaders of our Company, including Liu Chong, the Chairman and Party Secretary of the Company, and Zhang Mingwen, General Manager and Deputy Party Secretary of the Company.
  During the meeting, COSCO SHIPPING HK introduced and expressed its gratitude for the long-term cooperation between the two parties. It was hoped that the cooperation could be further strengthened in the future and the synergies between industry and finance could be better utilized.

  COSCO SHIPPING Development stated that, based on the integration of industry and finance, the Company will actively implement the Group's strategic layout, optimize the integration of resources, give play to the advantages of domestic and overseas integrated operations, and improve the synergy effect of the industrial chain, so as to continue to provide better services to customers.

  The attendees included Jia Guangchao, assistant to the General Manager of COSCO SHIPPING HK, the heads of operation department and Kansai Paint, Du Haiying, the Deputy General Manager of COSCO SHIPPING Development, and the heads of the supply chain finance department and Shanghai Universal.