On March 25, 2022, the signing ceremony of Qidong Health Hub project construction was held at Qidong Container Factory of Shanghai Universal Logistics Equipment--part of COSCO SHIPPING Development. The ceremony was attended by leaders from Qidong Municipal Government, Qidong Xincheng Urban Construction, Jiangsu Qisheng Group and Qidong Container Factory of Shanghai Universal Logistics Equipment. The ceremony was also witnessed by responsible persons from Party Affairs Committee of Qidong Marine Engineering and Shipping Park and Qidong Container Factory.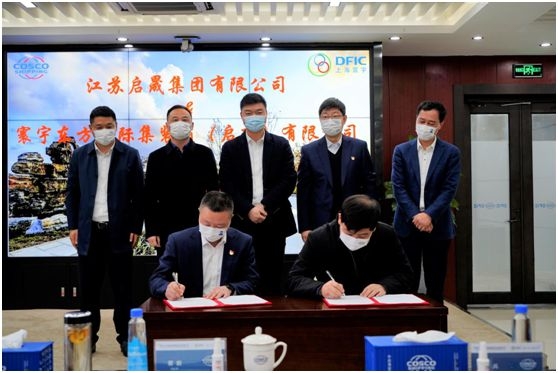 Amid resurgence of Covid-19 cases globally and worsening pandemic situation in China, Qidong initiated the Health Hub project according to related prevention requirements, and Qidong Container Factory was responsible related design and production/construction tasks. The Health Hub includes quarantine rooms, lounge rooms, meeting rooms, sanitation rooms, buffer rooms, changing rooms, duty rooms and other facilities. Project construction and debugging is scheduled to complete in one month. The delivery of this project will support pandemic prevention efforts in Qidong.
At the signing ceremony, both parties said they will fulfill their social responsibilities and support China's pandemic prevention and control. Qidong Container Factory said that will make good use of this contract to improve risk management related to safety, pandemic prevention and quality. Meanwhile, the factory will further expand product R&D and improve service capabilities via technology. It also aims to enhance its brand value through high quality products and high efficiency, and play it part in the ongoing pandemic prevention.
The factory will build on its success to go further. As the world's second largest container manufacturer, COSCO SHIPPING Development is well aware of its social responsibilities. It will strive to achieve sustainable development by sticking to the principle of combination of industrial and financial capital.