COSCO SHIPPING Development won the "Capital Operation Benchmark Award of Listed Companies" of the "15th China Listed Companies Value Selection". The event was organized by Securities Times and sponsored by Caitong Securities, and the results were announced on September 28th.
  The "China Listed Companies Value Selection" has always adhered to the principles of science, objectivity and fairness, and has become one of the most influential selections in the field of listed companies organized by domestic mainstream financial media. This year, the selection continued to follow the scientific and strict standard and process, using quantitative and qualitative methods, through combing and comparing the financial and investment indicators of listed companies, combining with the judgment of the judges from industry institutions on corporate governance and finance, and finally selecting various awards by a high-level evaluation and expert panel. The winners were selected from thousands of participating companies after fierce competition, showcasing outstanding competitive edges.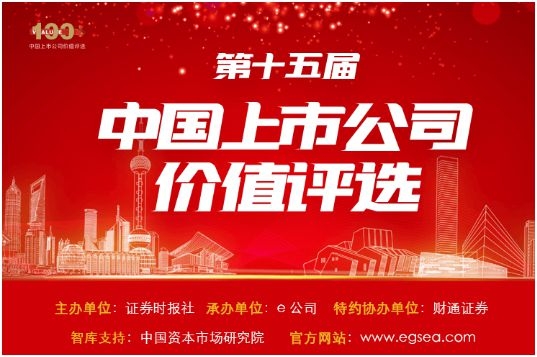 On September 24th, COSCO SHIPPING Development's project of issuing shares to purchase assets and raise ancillary funds was unconditionally approved by the M&A and Reorganization Committee of the CSRC, which is an important milestone for the sustainable development of the Company's container manufacturing business and reflects the high recognition of the Company by the capital market. Upon the completion of this transaction, the Company will become the second largest container manufacturer in the world, and the integrated container manufacturing business will further bring into play the scale effect, synergy effect and technological innovation to achieve effective upgrading of its core competitiveness. At the same time, this transaction will further optimize the capital structure of the Company and protect the interests of the Company and its shareholders. As a comprehensive supply chain financial service platform with shipping and logistics characteristics, COSCO SHIPPING Development has always been committed to promoting the high-quality development of the Company by focusing on the shipping supply chain, thereby realizing the enhancement of the overall value of the Company.
  In recent years, the implementation and improvement of a series of reform initiatives, such as the new securities law, registration system and normalized delisting mechanism, have effectively promoted the multi-level and healthy development of the capital market, and the value discovery function of the capital market has become increasingly prominent. With the gradual and quality development of the capital market, capital is increasingly value-focused, expecting to tap into the truly high-return target projects. Against this backdrop, a number of value investment benchmarks were picked out in this selection organized by Securities Times, receiving awards including the Top 100 Most Valued Main Board Listed Companies, Social Responsibility Award, Top 50 Growth Companies and Capital Operation Benchmark Award. Such listed companies are playing a leading role in the capital market and jointly promoting the healthy development of the capital market.