Speeding up in the establishment of the social credit system is a specific requirement on earnestly implementing Xi Jinping Thought on Socialism with Chinese Characteristics for a New Era and the spirit of the 19th National Congress of the CPC as well as a key measure in following the new development concept, promoting high-quality development, improving the socialist market economy system, enhancing and innovating social governance and building a favorable business environment.
  Shanghai Universal Guangzhou Container Factory of COSCO SHIPPING Development has been attaching great importance to credit establishment. Under the leadership of Shanghai Universal and the guidance of the "32 rules of enterprise cultural concepts" of Shanghai Universal, Guangzhou Container Factory follows the credit operation concept and establishes a sound corporate image through providing customers with quality products and services and making payment to suppliers in strict compliance with provisions of contracts. It has been awarded the honorary title of "Enterprise with Excellent Contract Performance and Credit Standing" for consecutive years. Seizing the opportunity, Guangzhou Container Factory actively applied for the enterprise credit evaluation in China and was finally awarded the title of "AAA Credit Enterprise".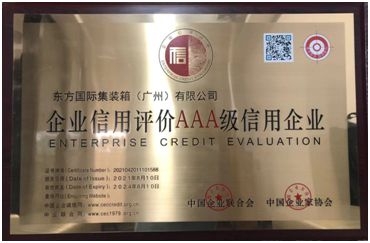 The enterprise credit evaluation is a scientific evaluation on the management capability, the economic solvency and the operation capability of enterprises by an independent third-party and authoritative professional rating agencies in the principle of independence, fairness and objectiveness based on scientific rating methods and reasonable and standard rating procedures and is shown with simple symbols.
  Enterprises with the honor of "AAA Credit Enterprise" mean that their operation is under the virtuous circle with insignificant risks on performing contracts. It also means that the enterprises have a complete credit system, are trustworthy and abide by laws and can provide customers and consumers with trustworthy products and services. The honor will bring more advantages to the enterprise in government procurement, tendering and bidding, administrative approvals, market access, qualification review and other administrative matters in the future.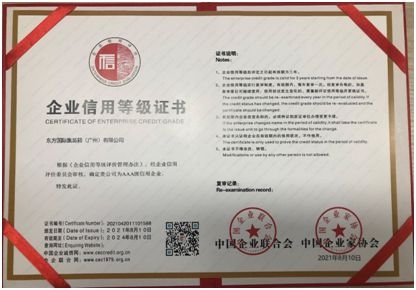 The credit establishment of Guangzhou Container Factory has established an outstanding benchmark in the industry. In the future, Shanghai Universal will take root in the new development stage, implement new development concepts and integrate into new development patterns. It will make initiatives, actively undertake missions and play an exemplary role in operation in accordance with laws and integrity. It will actively perform social responsibilities, enhance the improvement of the credit system and innovate the practice and improve the comprehensive competitiveness to make its contributions to building an outstanding and trustworthy business environment in the society and industry.