On December 3, 2021, Sina ESG Rating Center together with "The Growing of the Great Brand" (《大国品牌》)Program under CCTV-1, released the first list of " Top 500 ESG Outstanding Enterprises of China " at the Golden Kirin Forum. COSCO SHIPPING Development was ranked 165th on the list of the Top 500 Enterprises.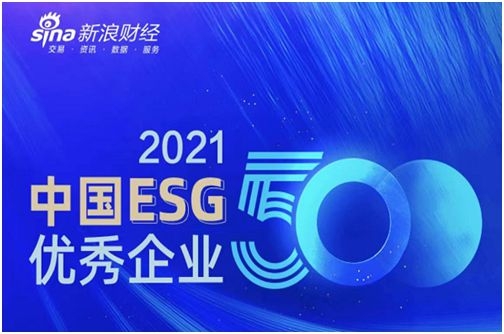 In the new era of high-quality development, financial performance can no longer fully reflect the sustainable competitiveness of enterprises, and enterprises shall create more social and economic values under the propositions of environmental protection, climate governance, social responsibility and common prosperity to realize value co-creation. In this context, Sina Finance relied on its powerful ESG rating database to conduct a comprehensive ESG evaluation of outstanding companies of Chinese A-shares, Hong Kong stocks, U.S. stocks and unlisted companies. Based on the evaluation results, the top 500 companies were selected out and were released in the list of "Top 500 ESG Outstanding Enterprises of China".
  COSCO SHIPPING Development's ranking on the list reflects not only the concern of all sectors of the community for the sound operation and sustainable profitability of the Company, but also the recognition of all sectors of the community for the sustainable development prospects in terms of the environment, society and corporate governance of the Company.
  In the future, COSCO SHIPPING Development will continue to take its advantages in shipping finance, deepen the integration of production and finance, promote the synergistic development of industrial chain with the supply chain finance, integrate the concept of sustainable development into the management and operation of the Company, join hands with stakeholders to promote win-win cooperation and practice the responsibility of creating a sustainable future.