On the afternoon of 27 October, Zhao Yuchun, Director of the Financial Supervision Division I of the Municipal Financial Supervision Bureau, along with Li Zhenkai, Section Chief of the Hongkou District Financial Work Bureau, visited Shanghai COSCO SHIPPING Microfinance Company Limited (the "COSCO Shipping Microfinance") where they carried out a study and research. Chang Qing, Chairman of COSCO SHIPPING Small Loan, Zhang Min, General Manager and heads of relevant departments attended the study and research conference.
  Chang Qing, the Chairman, expressed his gratitude to the leaders of the city's two-level financial bureaus for their support and guidance to the company, and looked back on the company's three-year development milestones since its inception. Zhang Min, General Manager, reported on the company's business product direction, risk compliance management, stock assets and subsequent development strategies.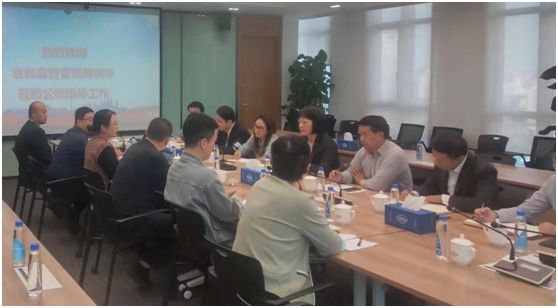 The leaders of the urban two-level financial bureaus expressed their affirmation and appreciation for the business development and operating results of COSCO SHIPPING Microfinance in the past three years, especially the excellent risk control performance with zero overdue and zero risk in the past three years, which distinguished us from our peers. At the same time, they also came up with expectations and requirements, hoping that the company could uphold the concept of compliant operation, respond to the call of the country, and continue to stick to providing high-quality financial services for the upstream and downstream of the shipping industry chain, with an emphasis placed on small and medium-sized entities.
  Chang Qing, the Chairman, mentioned that COSCO SHIPPING Microfinance would continue to resolutely implement the national policies and regulations and the requirements of the Financial Regulatory Bureau, carry out the concept of compliant and stable operation, and set a benchmark for the microfinance industry. At the same time, as a shareholding company of COSCO SHIPPING Development, it actively implemented the concept of COSCO SHIPPING's development of one-stop supply chain financial services. In the overall promotion of supply chain financial business, it would give full play to its own advantages, practice the integration of industry and finance, optimize the industrial ecosystem, serve the main business of shipping and logistics, and help the development of the real economy.