On 20 October, Mr. Qu Hongzhi, the president of CHINA BOHAI BANK, and his delegation visited COSCO SHIPPING Development and had friendly conversations with Mr. Liu Chong, the Managing Director, and Mr. Lin Feng, the chief accountant, of the Company.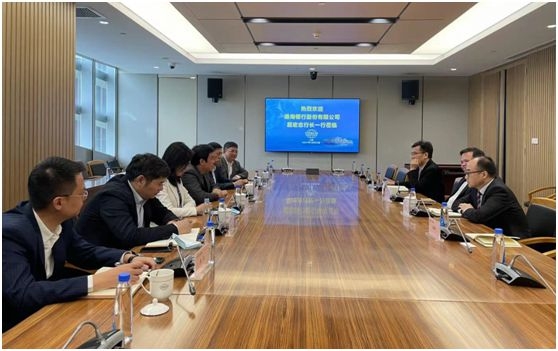 Both parties reviewed the good cooperation history between COSCO SHIPPING Development and CHINA BOHAI BANK and introduced their business development conditions respectively. The parties exchanged their opinions and discussed on enhancing the exchange on investment and financing businesses, innovating the new model of investment and loan linkage mechanism and promoting comprehensive cooperation in industry, finance and investment. Both parties agreed to further enhance communication and coordination, and to expand mutual benefits and increase cooperation in the future.
  Mr. Wang Wei, the chief of CHINA BOHAI BANK and the president of Shanghai Free Trade Zone Branch, Mr. Jin Fuzhen, the president of Shanghai Branch and the related department heads, the head of finance department of COSCO SHIPPING Development and the relevant persons of the strategic investment department attended the meeting.